WE CARE ABOUT YOU, YOUR SMILE, YOUR COMFORT & YOUR WELL BEING.

✓

HONESTY
✓

EXPERIENCE
✓

AFFORDABILITY
✓

SERVICE
✓

COMMUNITY
✓

CONVENIENCE

These are the six principles that serve as the foundation of our mission to improve the lives of our patients, one smile at a time.

We believe in the power of a beautiful smile and the impact that a beautiful smile has in the lives of our patients. For that reason, we are committed to making it easy for everyone to have access to start their journey to a confident beautiful smile.
HONESTY
Every decision we make regarding your orthodontic treatment is based on one basic principle: honesty. We want the best for our patients. We put your needs and concerns at the forefront of everything we do.
We will start your orthodontic treatment only when you are ready to start your treatment. Dr. Gallo treats his patients as he would treat his own kids. We are transparent, we will inform you about what you should expect from us, and we will keep our promises. We invite you to listen to what people are saying about us here.
EXPERIENCE
Dr. Gallo is a certified orthodontic specialist with many years of experience. We have the tools you need and the experienced team to help you achieve the smile you've always dreamed of. With more than 10,000 beautiful smiles created, Dr. Gallo has the expertise to treat any patient, from the simplest conditions to the most complex. We invite you to visit our Before and After Gallery.
AFFORDABILITY
We are committed to improving the lives of our patients one smile at a time. We believe that everyone should have the opportunity to have an amazing, confident smile. Our team will work with your budget to make it possible for everyone to afford orthodontic treatment. We have flexible down-payment options and low monthly payments.
SERVICE
By prioritizing patient satisfaction, we focus on making each patient's treatment experience the best it can possibly be. We go far beyond our patients' expectations. We are devoted to nurturing a caring and professional relationship with each person, starting with your first appointment.
With this philosophy, we are able to help patients achieve incredible results while supporting them every step of the way. Dr. Gallo is always available to answer any questions regarding the progress of your treatment, and he provides each patient his cell phone number in case you may have questions after the appointment. He is also available after hours and during weekends.
In case of an emergency, Dr. Gallo will personally come to the office to see his patients.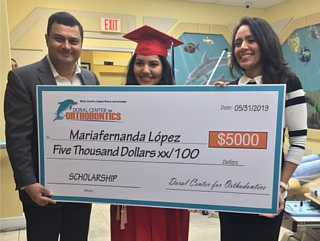 COMMUNITY
Dr. Gallo is the type of person who is always helping someone in need; weather giving food for to those in need or awarding scholarships to the best High School Senior Student or sponsoring a foundation like "Fundacion Rayito de Luz," our office is always giving back to the community.
CONVENIENCE
We have late-evening appointments to accommodate our patients' busy schedules. We invite you to come and experience the difference! If you are considering an orthodontic treatment at Miami Center for Orthodontics, contact us today to schedule an appointment!